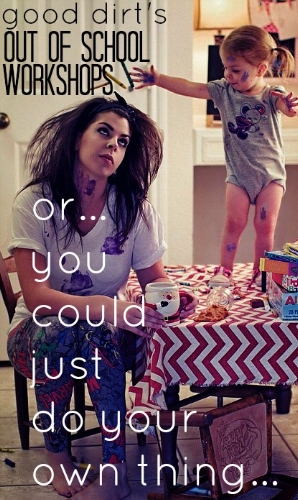 Out of school workshops meet from 9AM to 3PM and are geared toward kids ages 6 and up.
Kids should have a packed lunch, snack, and water bottle, and should dress for lots of messy fun.
Weather permitting, lunch will be a picnic outside with some games to allow kids to refresh their creative juices with some physical activity.
The cost for our Out of School Workshops is $55/day.
Please note that multiple dates such as Holiday Clay, Thanksgiving Clay & Spring Break are paid for by individual days –each day attended is $55/day (not $55 for the entire week).
When school is out of session, kids can spend the day with us creating fun projects in clay, with a theme inspired by the holiday or time of year. Interested? Then, head on over to our "Classes" tab to sign up. Or, just click here.
Here's the dates for our workshops this year:
October 9 (Clay Jack–o-laterns)
October 27 (Spooky Clay)
October 30 (Halloween Clay)
November 20 & 21 (Thanksgiving Clay)
December 20, 21 & 22 (Holiday Clay)
January 2, 2018 (New Year's Clay)
January 15 (MLKlay)
February 19 (Valentine's Clay)
March 12-16 (Spring Break Clay)
April 9 Spring Clay